A weekly newsletter offering an entertaining look at what's important in 3D printing, guns, and politics.
Enjoy a relaxing Saturday morning catching up on the topics you care about with the En Bloc Press Newsletter. Each week you'll discover fresh news on 3D printing, valuable insights about the gun business, and thought-provoking perspectives on politics.
Members also enjoy a private podcast RSS feed with occasional podcast episodes, as well as discounts on merchandise from the En Bloc Press store.
All newsletters are archived, and subscribers enjoy full access to all posts on our website. Away from your inbox? Access your content from anywhere by logging into the website.
So what are you waiting for? Join now by subscribing to any plan below: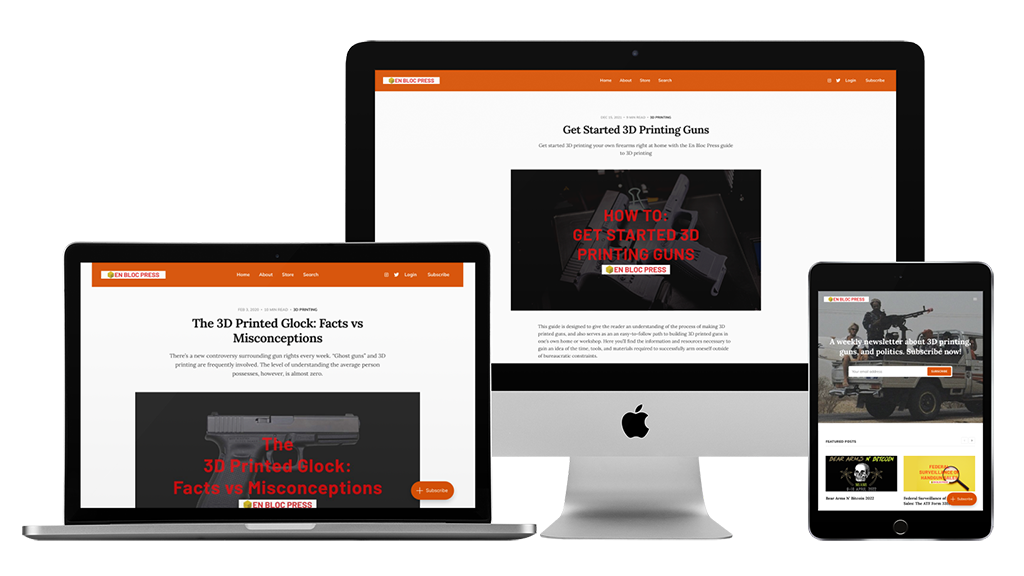 ---
$
0
Free articles
Monthly newsletter
Occasional discounts
Occasional podcast
$
7
First & full access
Weekly newsletter
Merch discounts
Private Podcast Feed
$
79
First & full access
Weekly newsletter
Merch discounts
Private Podcast Feed
Bitcoin
If you'd like to pay for your subscription with Bitcoin, visit the En Bloc BTCPay Store [HERE]