Recap: Bear Arms N' Bitcoin 2022
A recap of the third annual Bear Arms N' Bitcoin event in Miami, FL.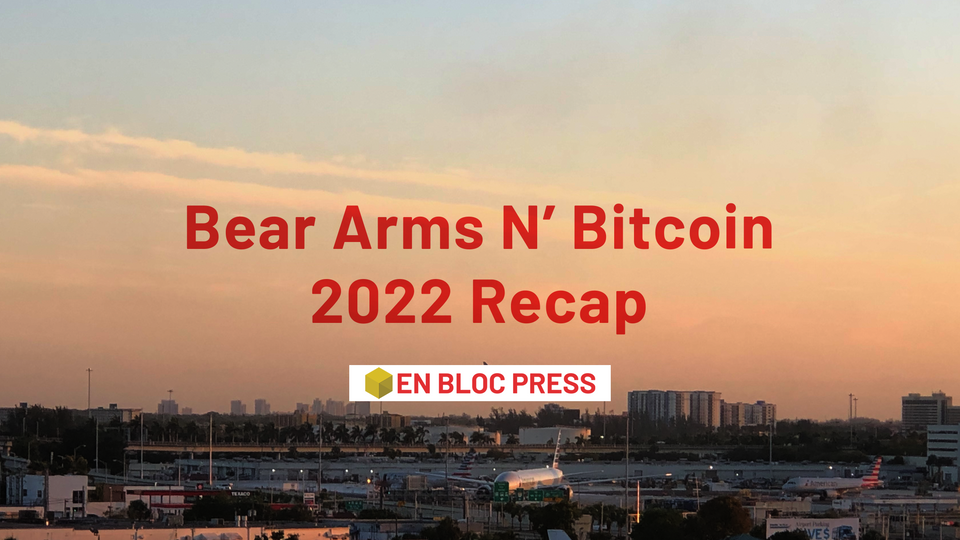 The Bear Arms N' Bitcoin conference is the premier event and resource for fans of DIY and 3D printed guns, Bitcoin and crypto, privacy tech, and other freedom technologies that one needs to understand to survive and thrive in our modern political climate.
This year's conference – the third of its kind – took place in Miami, FL. By my estimate, Guns N' Bitcoin's BANB2022 brought together about 200 freedom tech enthusiasts.
The event occupied two hotel conference areas; one for talks and presentations and one for showcasing 3D-printed guns and vendor demos for BTC and crypto products like tools from Start9 Labs and Samouri Wallet.
The event opened with a talk by Guns N Bitcoin's own Ragnar Lifthrasir. Ragnar's talk focused on the concept of Civilization, how culture, scale, technology, politics, and stories factor into an advanced society and begs whether we, as a civilization, are moving in the right direction.
Mr. Lifthrasir's talk was followed by keynote Dominica Yawls, director of Texas-based Defense Distributed. Yawls, inventor of the 3D-printed gun, gives a compelling talk that ties philosophical concepts of Jünger, Sloterdijk, and Neitzche together with "Death Athletic," and packages these ideas together in an engaging slide deck, complete with memes and aesthetic typeface. It's worth the time to watch:
At the beginning of the conference, the 'house rules' are presented to the audience. It is emphasized that BANB is an educational event, apolitical in nature, and open to anyone willing to learn and be respectful of others.
Except for the keynote speaker's references to pending gun control proposals, the conference largely avoided politics but offered muffins, coffee, and two days' worth of informative talks about home gunsmithing, personal finance, and digital privacy. The crowd was an eclectic mix of men and women of all ages and a handful of families in attendance.  
If you are someone with an interest in technologies like 3D-printed guns, sovereign finance, and securing your privacy, the conference is a great way to get some excellent information from leaders in the space. Many of the speakers are prominent gun developers, software engineers, or are otherwise hands-on with the technologies of freedom tech. You're able to mingle at the cash bar reception.
BANB2022 also did a good job of respecting guest privacy. One can pay with Bitcoin or Monero, and guests check in using email addresses rather than a photo ID. There is a restrictive photography policy; taking photos of people or recording talks is prohibited unless the person gives clear and prior consent. Attending the event without touching your ID or credit card is possible.
Despite En Bloc Press being a media partner for the last three conferences, this was my first year attending BANB in person. If you have the chance to attend next year, you should go. Even if you're involved in the space, it's a nice change of pace to be in the same room as like-minded people.
We live in a strange place during a strange time. In a world of wine aunts and weaponized HR departments, it's nice to be around sane people. It's a boost to be reminded that we aren't the crazy ones. Wanting to build cool things or tinker with guns is normal and good. Wanting to be secure in your finances is normal and good. Wanting to have privacy is normal and good. Wanting to be free is normal and good.
Ultimately, BANB offers two days with some of the smartest people in the room, and it's a real white pill.  Attendance is a chance to be reminded that despite whatever the bug people throw at us, "to our kind, this is nothing." We're going to win.
---
💬
Disclosure: as a media partner, En Bloc Press was not required to pay an entrance fee.