Newsletter
Cracker Barrel Respecter - Issue #3 of 4 - November 2021
UBAR 9mm and Glock 43 on the horizon, CMMG's 4.6, Fenix Ammunition stirs up the libs, Smith & Wesson's new 10mm, CZ's new bolt gun, the Steele dossier falls apart, yuppies disrespect Cracker Barrel...
3D Printing & DIY
Plastikov v3 rail kit now available
Riptide Rails releases stainless steel rails for the Plastikov. This is Ivan's popular AK-pattern build. The kit includes the necessary hardware and hex key for installation. Works on v0.9 Plastokovs or later. [Here]
New accessories from FFFTech
FFFTech posted some new accessories to his Odysee channel this week. As usual, this is looking like good work. Check it out [Here]

The UBAR 9mm
RK has opened a beta testing group for the UBAR 9mm concept. I'm not in the group, but this looks like a 9mm variant of the excellent UBAR 3D-printed AR-15 receiver. The early videos look good. If you're someone who — just hypothetically — has a 3D printer lying around that you've been meaning to set up and have also been considering building a 9mm AR…well, the testing group info is [Here]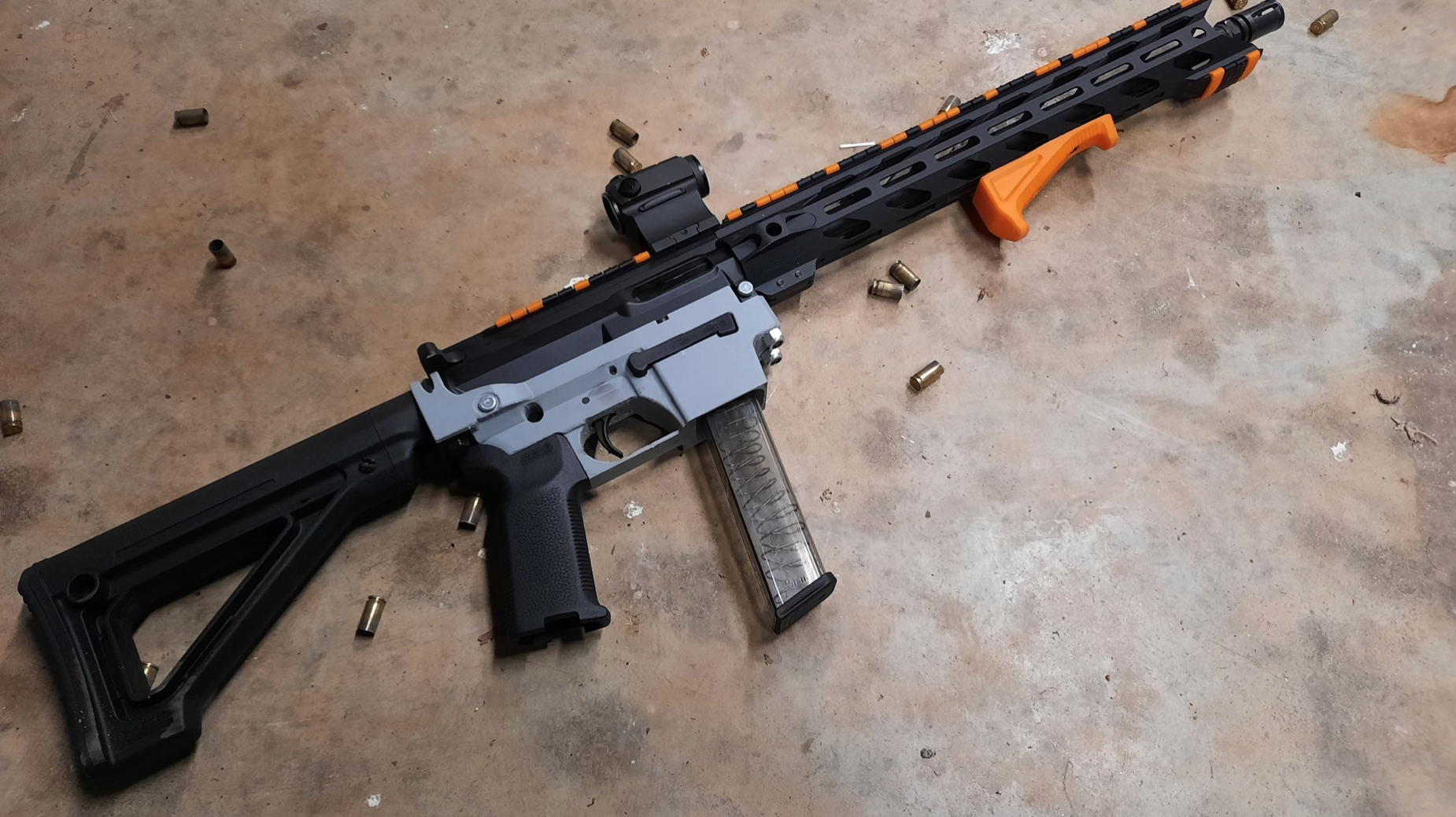 Glock 43 into beta soon
The Glock 43, in the form of the DD43.1, will be entering beta testing soon. Lead dev on this will be the prolific Vihn Nguyen. Rails will be available from Aves. Vihn's shopping list is here. Keep your eyes out for this one. [Here]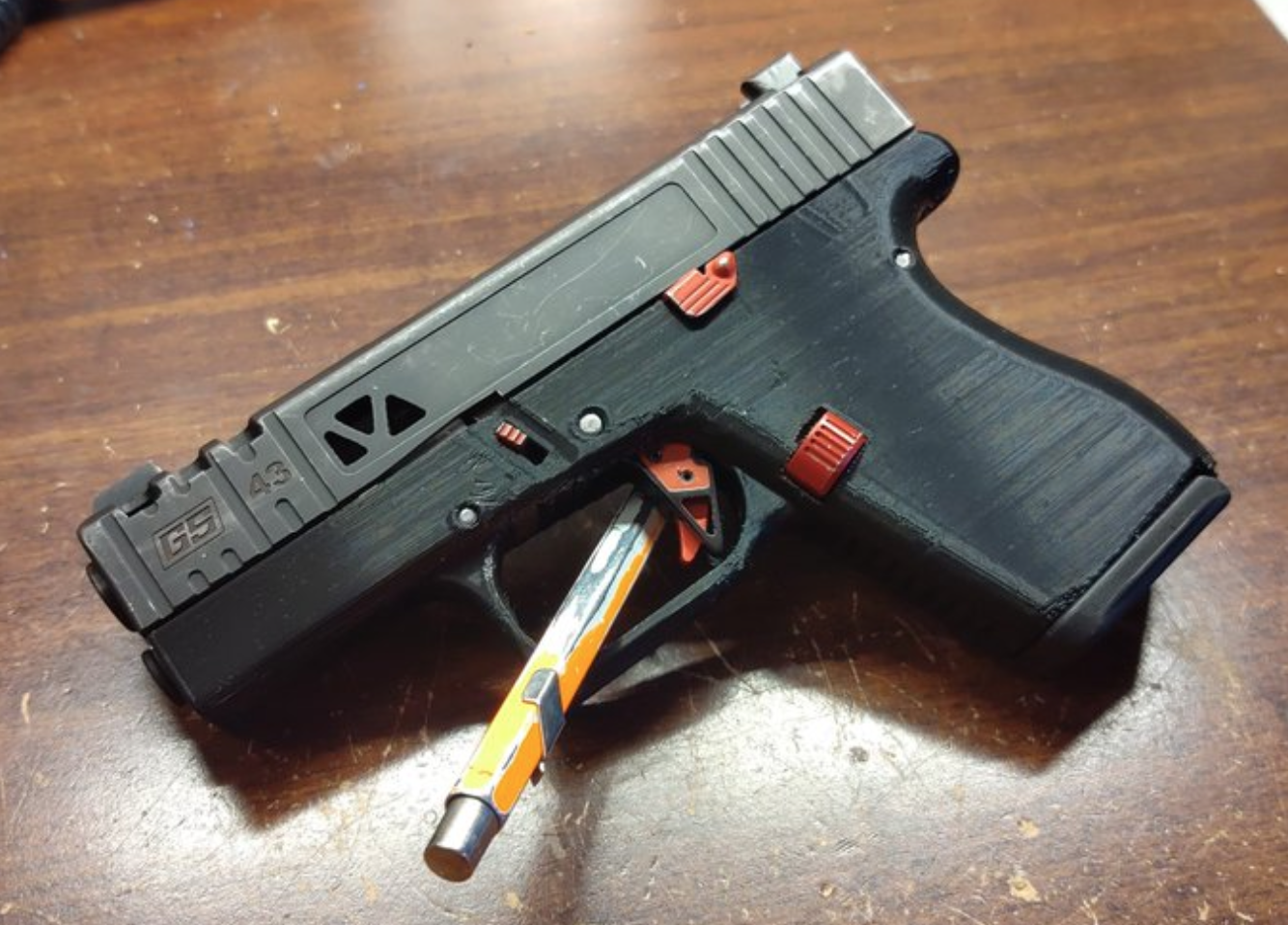 Magwell Glock frame
p80ralph teased a Glock frame that is compatible with a mag well. These are, in my opinion, always a good accessory to have. The file will apparently be available soon. [Here]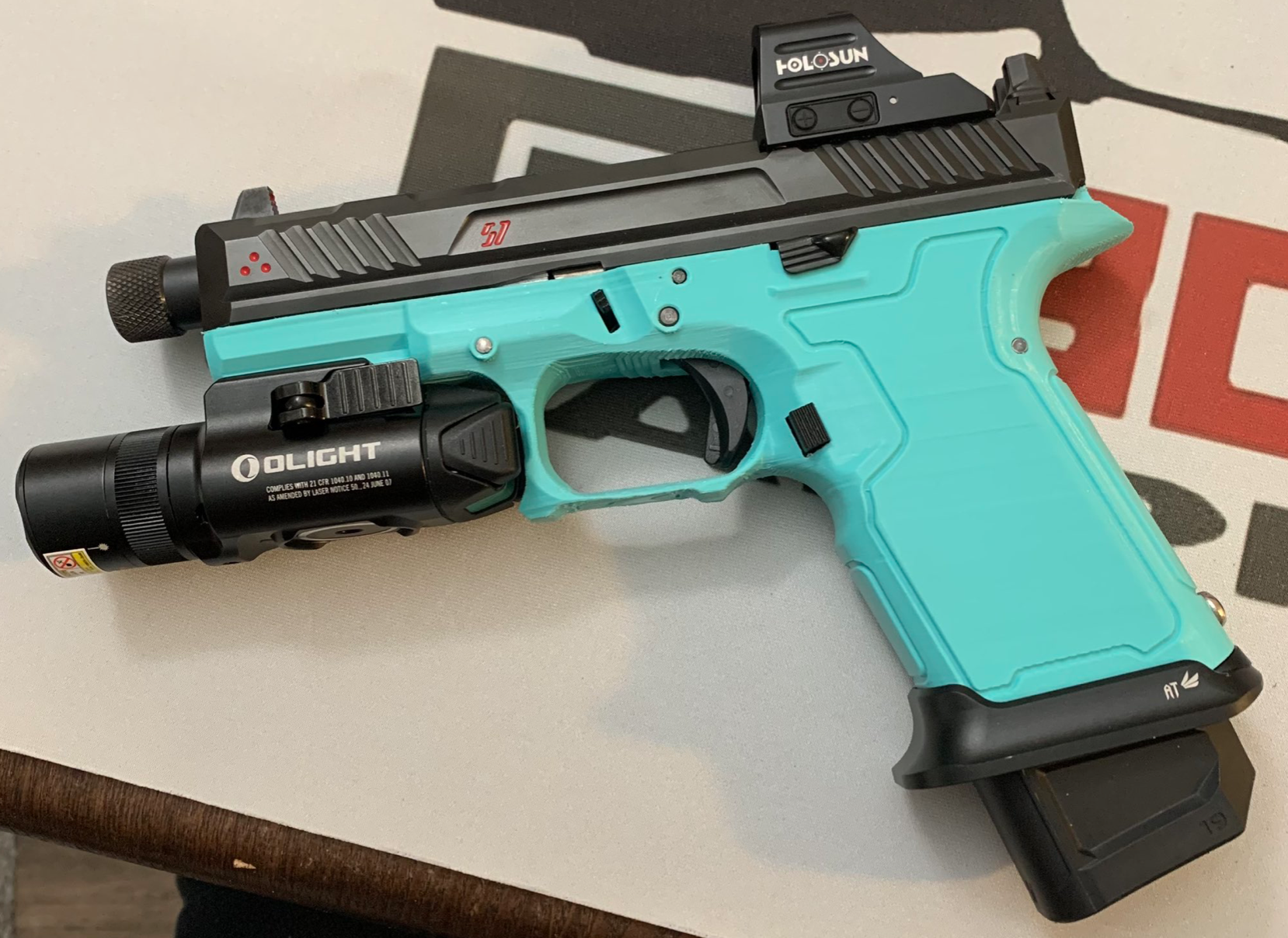 PVC pipe, foam, and 3D printing all played a role in creating the world's largest Nerf gun [Here]
San Diego passed an ordinance targeting ghost guns, but now they don't actually know how to enforce it [Here]
Green Bay felon busted trading ghost guns for meth. Oof. [Here]
Florida state reps introduce bills targeting ghost guns. This comes up from time to time and rarely gets any traction at all in Florida, but it's still annoying and worth keeping an eye on. [Here]
Both DC and NYC have recovered more ghost guns in 2021 than any year prior. [DC Here] [NYC Here]
Guns
CMMG releases a 4.6mm AR
This is a cool idea. The 4.6mm is a small caliber, high-velocity cartridge, originally made for the H&K MP7. Until now, it hasn't been available in the civilian market. I think it's a good call for CMMG to fit this into an AR-pattern gun and I hope the market rewards them. The FourSix is built on the CMMG Banshee Mk4 and comes in a pistol or SBR configuration. The gun has an 8" barrel and 40-round magazine, and a patent-pending "micro gas block". [Here]
Smith & Wesson 10-Zilla
S&W made a smart choice about the (stagnant!) Military & Police series of guns, by announcing a 10mm pistol to supplement their M&P 2.0 line up. The new pistol is built on an M&P45 frame and comes with an optics-ready slide, flat trigger, and 15+1 capacity. [Here]
CZ has a new bolt gun
CZ's new 600-series bolt gun will replace their models 527 and 557. The CZ 600 features a cold hammer-forged barrel, vertical safety, and 60 degree bolt throw. Barrels are interchangeable so that you can switch calibers with ease. The trigger is single-stage and adjustable and can be set between 1.3lbs and 3lbs using an Allen key. The rifles ship with either a Remington 700 base attachment or Picatinny mounting section. CZ builds a quality product and I imagine this will be a winner. [Here]
Threaded barrel for Springfield Hellcat
Apex releases a threaded barrel for the Springfield Hellcat pistol. This is a drop-in replacement with a 1/2x28 thread pitch. Cold hammer-forged. [Here]
Fenix Ammunition stirs up the shitlibs
Ammo manufacturer and trolling enthusiasts Fenix Ammunition drew some attention this week as the internet found out they were selling brass shell casings with anti-Biden slogans etched into them. These are non-firing, .50 caliber brass casings that are meant to be given as gifts, but plenty of anti-gunners freaked out on Twitter about the fact that a "gun thing" had "let's go Brandon" on it.
Journalist Steve Neavling wrote an article about the novelty trinkets [Here] and later updated it with the tremendous response he received from the CEO of Fenix Ammo:
You may remember a while back when Fenix Ammo made the commitment to stop selling ammunition to law enforcement agencies after the company was fined for a mask violation by a local cop. These guys are always doing the right thing it seems. I have no affiliation with Fenix, but I'd encourage you to consider them for your next ammo order. [Fenix Ammo]
Politics
Kyle Rittenhouse Case
By now I'm sure you've seen that Kyle Rittenhouse was found not guilty on all charges. I won't spend too much time on this since the entire world is talking about it.
If you haven't seen the verdict video, it's worth a watch. I really feel bad for this kid. [Here]
Kyle Rittenhouse will be on Tucker Carlson on Monday evening [Here]
I do think this acquittal is an overall good thing, and hopefully, this precedent puts a damper on future mass looting and rampant destruction.
FDA wants to get back to us in 2076 about the Covid vaccine
The FDA this week argued in court that it would need 55 years to fully respond to a Freedom of Information Act (FOIA) request by a group of researchers. The researchers are simply requesting the data that FDA used to license the Pfizer vax, and claim that it shouldn't take longer than 108 days to release the information, since it only took the FDA that long to review the data to begin with before issuing the license. The FDA is saying they'll actually need five decades because they only have 10 employees in that department and they're all really busy (yes, really). [Here]
Bill Gates and the $319M media purchase
Alan Macleod has a great piece on how Bill Gates 'donated' at least a combined $319M to hundreds of media outlets and related ventures, at times in exchange or specific media coverage related to his interests as a Billionaire lizard person:
For example, the $3.6 million CNN grant went towards "report[ing] on gender equality with a particular focus on least developed countries, producing journalism on the everyday inequalities endured by women and girls across the world," while the Texas Tribune received millions to "to increase public awareness and engagement of education reform issues in Texas." Given that Bill is one of the charter schools' most fervent supporters, a cynic might interpret this as planting pro-corporate charter school propaganda into the media, disguised as objective news reporting.
This practice — sometimes called 'philanthrocapitalism'  — is increasingly widespread and raises ethical concerns about the uber-wealthy's ability to influence public opinion and turn their personal interests into the public agenda. The article is worth the read. [Here]
What could go wrong
There were a few raised eyebrows this week when it came out that the Biden admin's pick to lead the Treasury Department's Office of the Comptroller of Currency was busted for retail theft in 1995. Saule Omarova entered into a deferred prosecution deal and her charges were later dropped as part of a Wisconsin first offender program.
The bit about shoplifting is obviously not a great look for someone who would be in charge of supervising national banks, but perhaps more worrying is the fact that Omarova appears to be an unironic communist and authored a paper in October of last year calling for a nationalization of the banking industry and for all American bank accounts to be transferred to the Federal Reserve in order to create "The People's Ledger". From Omarova:
The COVID-19 crisis underscored the urgency of digitizing sovereign money and ensuring universal access to banking services. It pushed two related ideas—the issuance of central bank digital currency and the provision of retail deposit accounts by central banks—to the forefront of the public policy debate. To date, however, the debate has not produced a coherent vision of how democratizing access to central bank money would—and should—transform and democratize the entire financial system. This lack of a systemic perspective obscures the enormity of the challenge and dilutes our ability to tackle it.

This Article takes up that challenge. It offers a blueprint for a comprehensive restructuring of the central bank balance sheet as the basis for redesigning the core architecture of modern finance. Focusing on the U.S. Federal Reserve System (the Fed), the Article outlines a series of structural reforms that would radically redefine the role of a central bank as the ultimate public platform for generating, modulating, and allocating financial resources in a democratic economy—the People's Ledger.

On the liability side of the ledger, the Article envisions the complete migration of demand deposit accounts to the Fed's balance sheet…
Fortunately, her Senate hearing on Thursday went poorly enough to cast her confirmation into doubt. Soviet-born Omarova attended Moscow State University where she wrote her thesis on Karl Marx and was in communist Facebook groups even in 2019. Pretty good, pretty cool.
Relevant Links:
Fox News: Here
Fox Business: Here
"The People's Ledger: How to Democratize Money and Finance the Economy - Saule Omaraova": Here
Steele Dossier melts
You may remember the "Steele Dossier" from a few years back, which alleged that Trump stole the election with help from Russia and loved getting pissed on by Russian prostitutes, etc., etc. Well, an interesting thing has been happening this month after one of the primary "sources" was charged with lying to the FBI about it. Basically, the whole thing has come apart and been exposed as fake. Even CNN had to offer a lengthy write-up admitting that it wasn't real. [Here]
Glenn Greenwald has some good takes and links [Here]
The Pentagon says that China and climate change are "both equally important"
Spokesperson for the Pentagon, Admiral John Kirby, answered that China and climate change were equally concerning when asked "which is a bigger threat?" at a press conference earlier this month. I'm not really sure what it is the military even does at this point. [Here]
The 'QAnon Shaman' gets 41 months in federal prison [Here]
Furry and non-hispanic white guy "Beto" O'Rourke is running for Governor of Texas [Here]
The Department of Interior will be taking steps to change "racially derogatory place names" [Here]
Adjacent News
AMC now accepts Bitcoin (and shitcoins)
You can now make your next movie theater purchase in Bitcoin, Ethereum, Bitcoin Cash, or Lite Coin. This works online only right now, but it's pretty cool to see. It's happening. [Here]
People are leaving the workforce, but they're getting replaced by robots
Businesses ordered 37% more robots than during this period last year, in an effort to meet shortfalls in staff levels. This is happening across a wider spectrum of sectors, too. Probably not great. [Here]
Wired has a quick little guide to using TAILS for secure and anonymous use of public/office computers
TAILS is a Linux distro that can be booted from a USB drive. Plug the USB drive into a computer at work, a library, your apartment's office center, wherever, and boot to a clean OS and use Tor. When you're done, just pull out the USB drive. Now you don't have to worry about leaving any sensitive or personal information on a shared machine. [Here]
Food Insider gets added to the list
This ridiculous 4-minute video from "Food Insider" features an assortment of stupid-lookingt urbanite soy millennials doing the unthinkable: eating food from Cracker Barrel.
Part of what's frustrating here is that (a) most millennials are well into their 30's at this point, and so the idea that it would be adventurous or quirky or novel for a 33-year-old to eat a hash brown or something makes me irrationally angry, and (b) there are almost 700 Cracker Barrel restaurants across the country and the chain has been around since the 1950s, so I'm not seeing how this is noteworthy enough to turn into a production.
But I get it — the obvious subtext here is "hey everybody, look at us! We're eating stupid chud food! Look at how gross the working class is! These people are so backwards!"
I really look forward to the day this country collapses, because when the traumatized band of Food Insider interns limps up to the entry control point of my patrol base in search of food and water, I'll get to turn them away while I eat a tray of biscuits and gravy from behind my machine gun emplacement in the guard tower.
Cracker Barrel's not even that great but this kind of performative rich kid stuff gets me going.
---
Notes
I hope everyone has a happy Thanksgiving this week! Hopefully, you can find all the food you need and it's not super overpriced. I'll see you guys next time
- Lee