Newsletter
Issue 1 of 4 - March 2021
GOA flexes, Cody Wilson, Noveske in Sryia, new rules for Chicago Police, 3D Printed Anschütz rifles, more!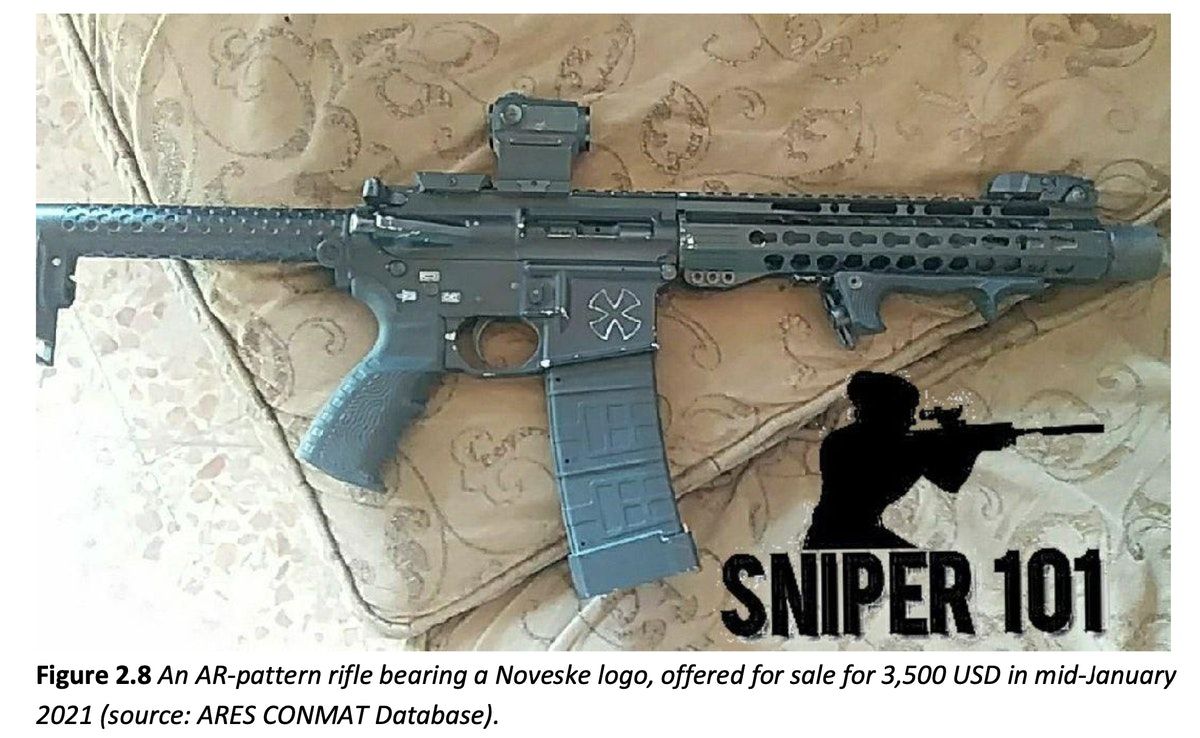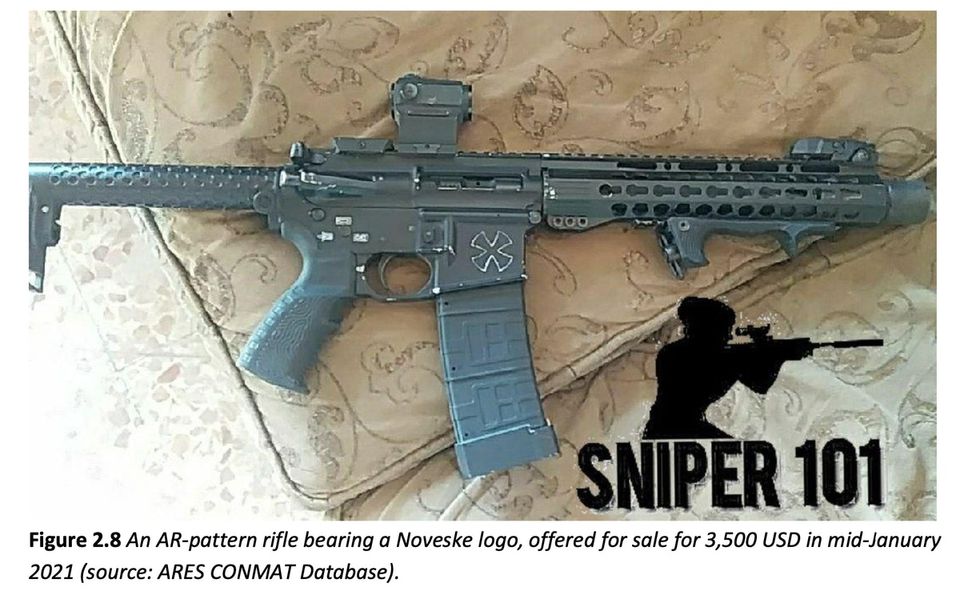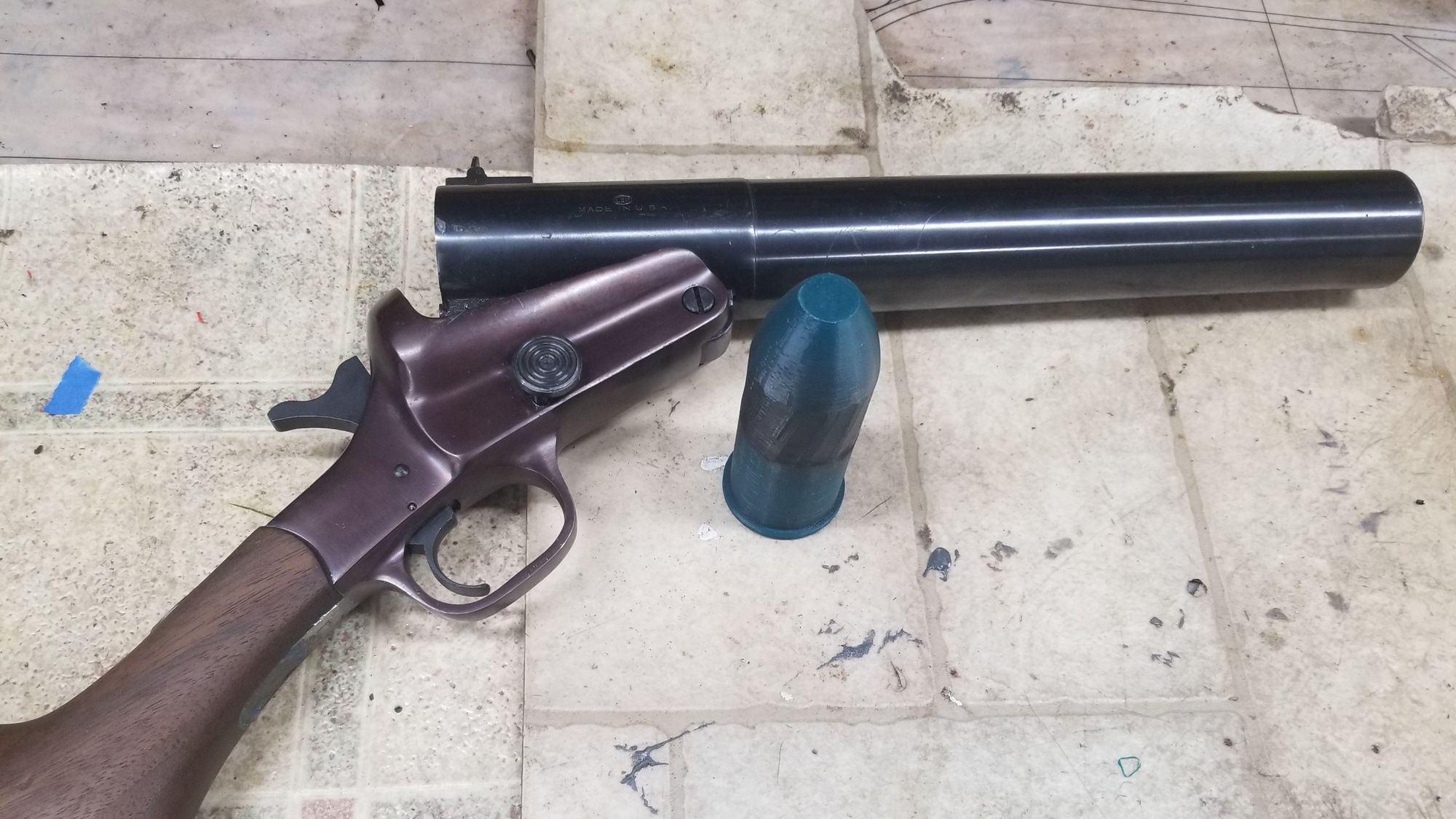 ---
In 3D Printing:
Gun Owners of America, in conjunction with JSD Supply and Defense Distributed, sent this excellent paper, entitled Request on Behalf of Law-Abiding Owners of Non-Firearm Receiver Blanks and Non- Commercial Manufacturers of Home-Built Firearms, to Biden. [Here…]
The entire thing is great, but the real Big Dick Energy was in the implication below:
The ATF agents tasked with enforcing any new Executive Action may likewise face unnecessary danger, as they could trigger actions in reasonable defense of self, family, and home, by persons who are known to be law-abiding gun owners. In many states, homeowners may use deadly force to repel unlawful invasions, and no bureaucrat or lobbyist can be certain how these armed encounters will occur or how dangerous or even deadly they will be.

- Gun Owners of America
The friends at MAF have released the "Floral Goodtimes Chime MKII" parts kit. It's got what you need to build your, uh, wind chime. [Here…]
Anschütz, the high-end manufacturer of rifles widely used in biathalons, is now using 3D printed stocks on their 1827 F Bionic rifles. The 3D printed material is lighter and outperforms alternatives in stress tests. The stock also makes use of internal magnets to secure the magazine, which is interesting.  [Here…]

The Firearms Blog has a fresh podcast interview with Defense Distributed's Cody Wilson. [Here…]
If this is your first time here, subscribe!
---
In Guns: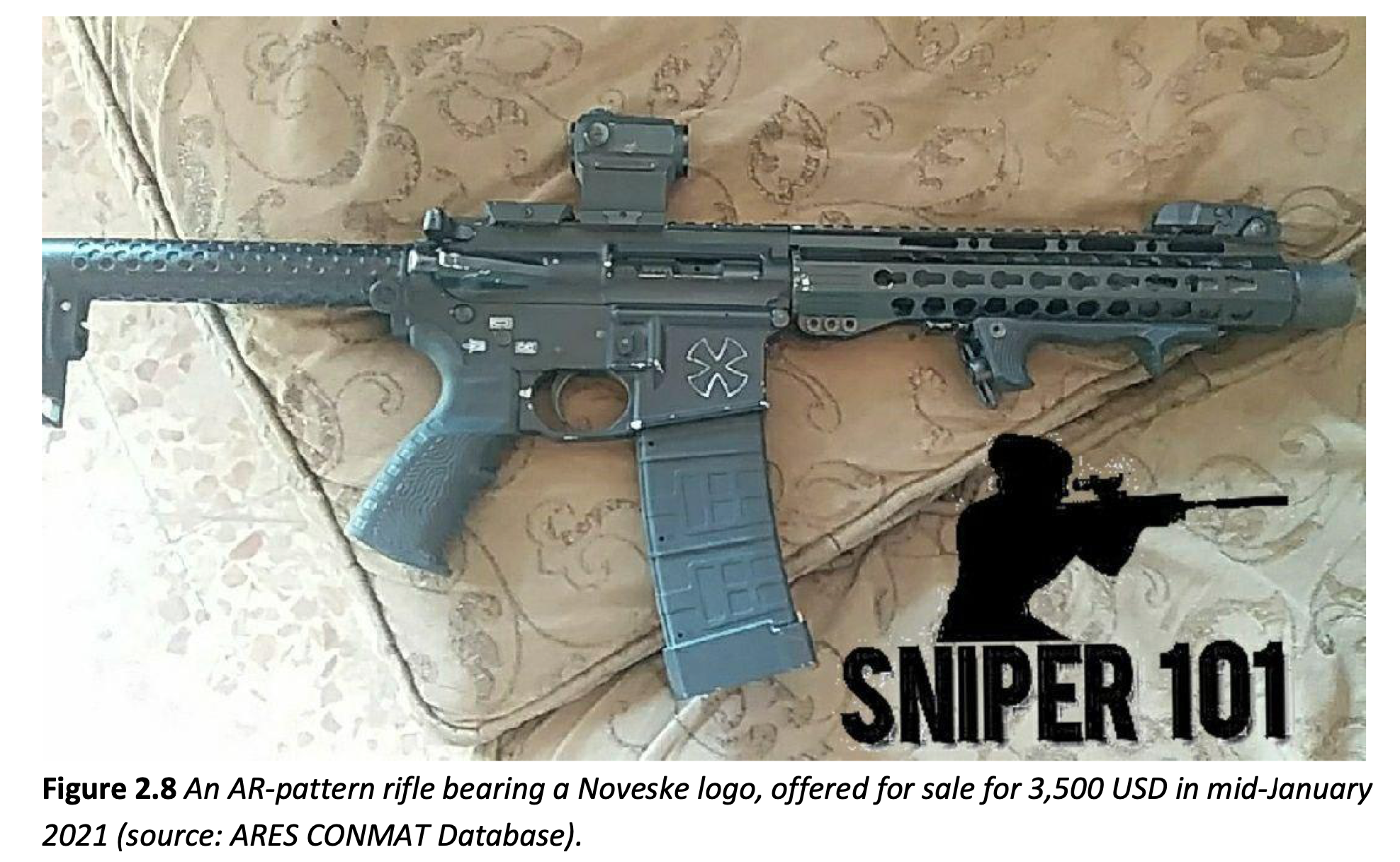 The news media is fear-mongering about the FN FiveseveN again. [Here…]
A walk around look at the Royal Small Arms Factory (Enfield) from Khyber Armory [Here…]
No firearms were recovered from the January 6th Capitol protests, per FBI. Weird to see an "insurrection" where no one brings any guns. Go figure. [Here…] (Starts at 1:08)
State government in California has basically stopped sharing firearms information with state-funded gun policy researchers, even though they are legally obligated to. Here's my guess: the data suggests that California's gun laws don't reduce violent crime (and probably make it worse), and they don't want anyone to have access to that information. [Here…]
Senator Tom Cotton (R-Ark.) is holding up the confirmation of Merrick Garland as Attorney General, as Garland refuses to answer basic questions by laughably claiming to have no idea about almost any laws. Keep in mind that Merrick Garland was nominated to SCOTUS by Barry in 2016 and also served on the Senate Judiciary Committee. Here's a gem: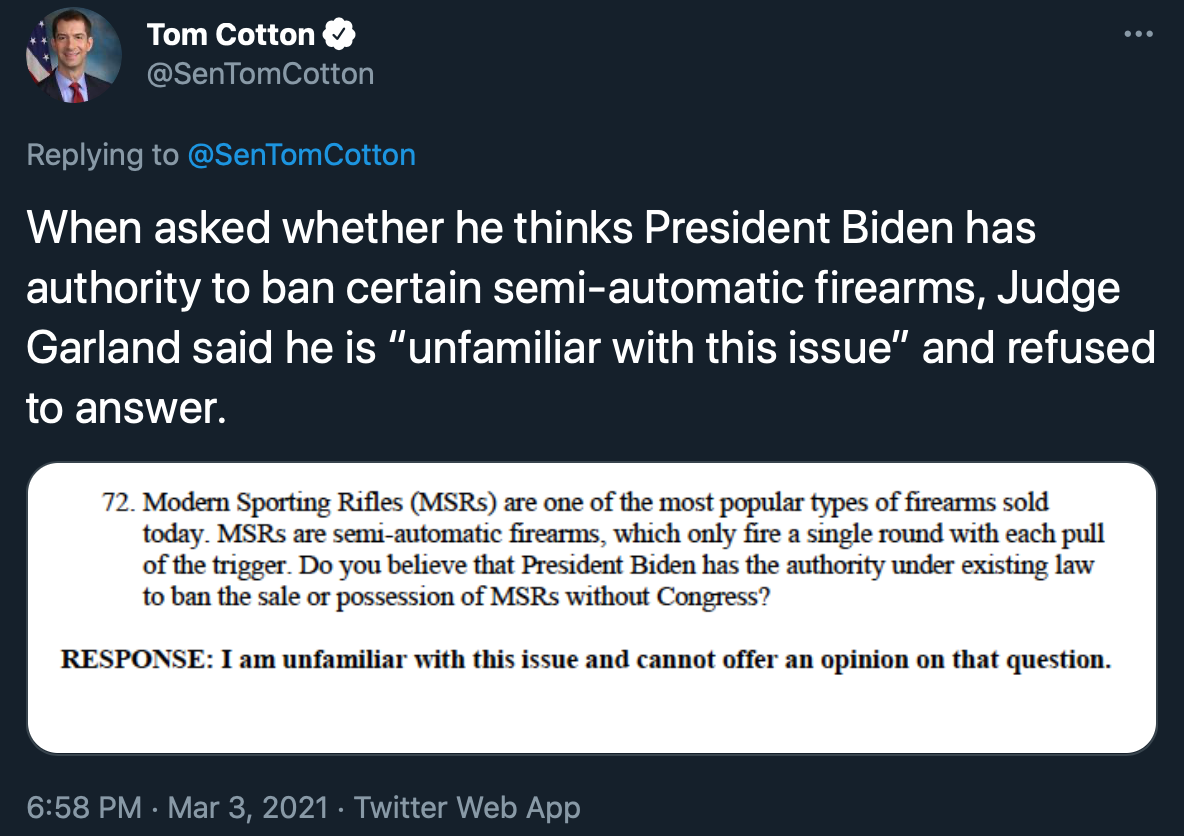 ---
In Politics:
Police in Washington, D.C., have requested a 60-day extension of National Guard soldiers due to "continuing concerns about security and the potential for violence." I think we're in a cold Civil War. [Here…]
North Dakota Senator Kevin Cramer, along with co-sponsors, introduced the Fair Access to Banking Act, which among other things, would limit the ability of payment processors and lenders to discriminate against firearm-related businesses. [Here…]
The FBI continues its fight against end-to-end encryption. FBI Director Christopher Wray says that unless tech companies maintain proprietary decryption tools, which the FBI can access at-will, the FBI "will not be able to get access to the content that we need to keep people safe". Yeah - eat a dick. [Here…]
The City of Minneapolis will be paying a number of social media influencers to post government-approved messages, aimed at black and brown social media users, during the trial for Derek Chauvin (the cop on trial for George Floyd's death). The messages are design to combat 'misinformation.' If they can't step on your neck in the street, they'll do it online. [Here…]
The city says social media partners will help dispel potential misinformation, and that the influencers will intentionally target Black, Native American, Somali, Hmong and Latinx communities with their messaging.

-CBS News
A judge in Aberdeen, Mississippi, is ordering a new election for a local seat after it was discovered that the vast majority of the mail-in ballots counted were fraudulent, and there was a coordinated attempt at election stealing. Good thing something like this could never happen at scale. [Here…]
Democrats are pushing HR1, which would effectively complete the destruction of the tiny scraps of integrity left in the US voting system. Spectator had a good summary here, but here are the highlights:
• Forcing states to implement early voting, automatic voter registration, same-day registration, online voter registration and no-fault absentee balloting

• Degrade the accuracy of registration lists by requiring states to automatically register all individuals on state and federal databases. This would include many ineligible voters, including aliens

• It would require states to allow 16-year-olds and 17-year-olds to register. Combined with a ban on voter ID, this would allow underage individuals to vote

• Require states to count ballots cast by voters outside of their assigned precincts, a recipe for election fraud

• Prevent election officials from checking the eligibility and qualifications of voters and removing ineligible voters

• Ban state-voter ID laws by forcing states to allow individuals to vote without an ID and merely signing a statement in which they claim they are who they say they are

• Require states to restore the ability of felons to vote the moment they are out of prison
Now-suspended Twitter account, [@]amuse also had a decent thread about HR1, which I was able to save as a PDF before they got nuked. Download: [Here…]
YouTube deleted Trump's speech at CPAC [Here…]
---
In Related News:
This PSA from the Los Angeles school district was really, really uncomfortable.
Some BlueCheck UCLA professor had a meltdown on Twitter, coming unglued about how Substack newsletters are "a dangerous direct threat to traditional news media," and also pose, "a threat to journalism." Her reasoning is everything you'd expect from a PhD.

I looked into this lady, and as it turns out she describes herself as "internationally recognized as a leading scholar on the emerging topic of commercial content moderation." This lady's whole life revolves around censoring what people can say. What a time to be alive. [Twitter Thread…]
Dr. Seuss is canceled. Six children's books by Dr. Seuss will no longer be published due to 'racist' images. [Here…]
To add salt to this already ridiculous wound, some sellers report that eBay has been — "as a courtesy" — canceling auctions of the newly-taboo books in some cases. [Here…]
---
Remember to visit En Bloc Press on:
---
I got the store up and running again, after some downtime. Check it out! We're able to accept Bitcoin as well as regular credit cards.
Use coupon code "SUB-ISSUE1-MAR21-H7A90FI5" for 15% off, since you're a Newsletter reader. Coupon's only valid this week, so don't delay!
- Lee
PS: I would really appreciate any shares!