The Ghosts of Pineland - Issue #48 - 2022
The subscriber-only Newsletter for the week of Saturday, December 10th, 2022.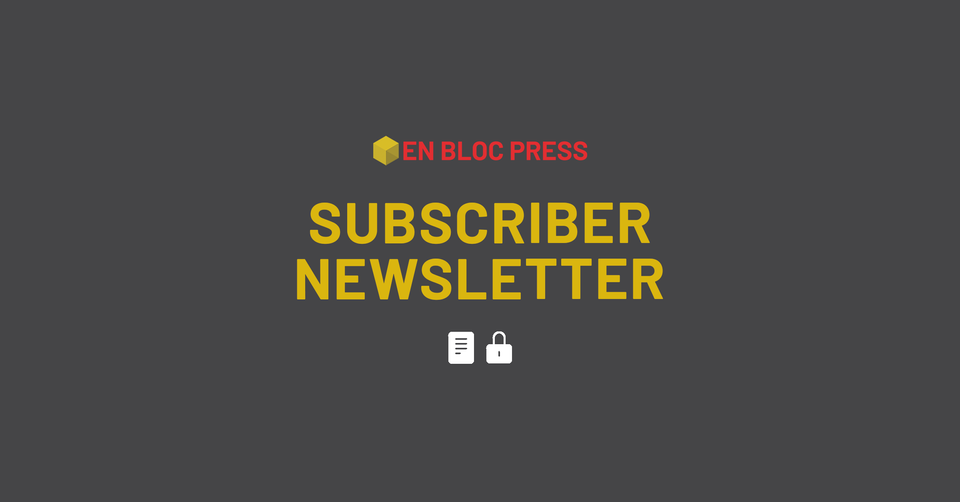 Good morning, friends. It's Saturday, December 10th, and we're taking a look at Pineland and Moore County, the new 4473, Biden's tough-on-China stance, and more...
Thoughts on the Moore County Attacks
I wanted to take a few minutes to explore some information about the recent news out of Moore county.
The Backstory:
A gunfire attack on two electrical substations in rural North Carolina has left tens of thousands of people without power, schools closed, a curfew imposed, and authorities investigating what they say was an intentional, criminal attack.
...
The outage began shortly after 7 p.m. Saturday night near Carthage, N.C., and soon spread to encompass the majority of the county. The damage to the substations could run into the millions of dollars, officials said. About 35,000 customers remained without power Monday afternoon, according to poweroutage.us, and the utility company warned that outages could last through Thursday.
 
NPR: What we know about the attack on two North Carolina power substations

The Speculated Motive:
The Sunrise Theater in nearby Southern Pines, NC, was hosting a drag queen show to raise money for Sandhill Pride, a local gay advocacy group. The performance was originally slated to be a child sex show, but after local outrage, organizers restricted the event to adults 18+ only.
There is speculation that the motive for the attack on the power substations was to kill the power to the venue and affect the show. The LGBT response on social media to the attacks was very panicked. Suspicions that the attacks were designed to shutter the drag show are unconfirmed but have not been ruled out. I would imagine these things are related, but that's just me going off what my gut tells me. There have been no updates from law enforcement at this time.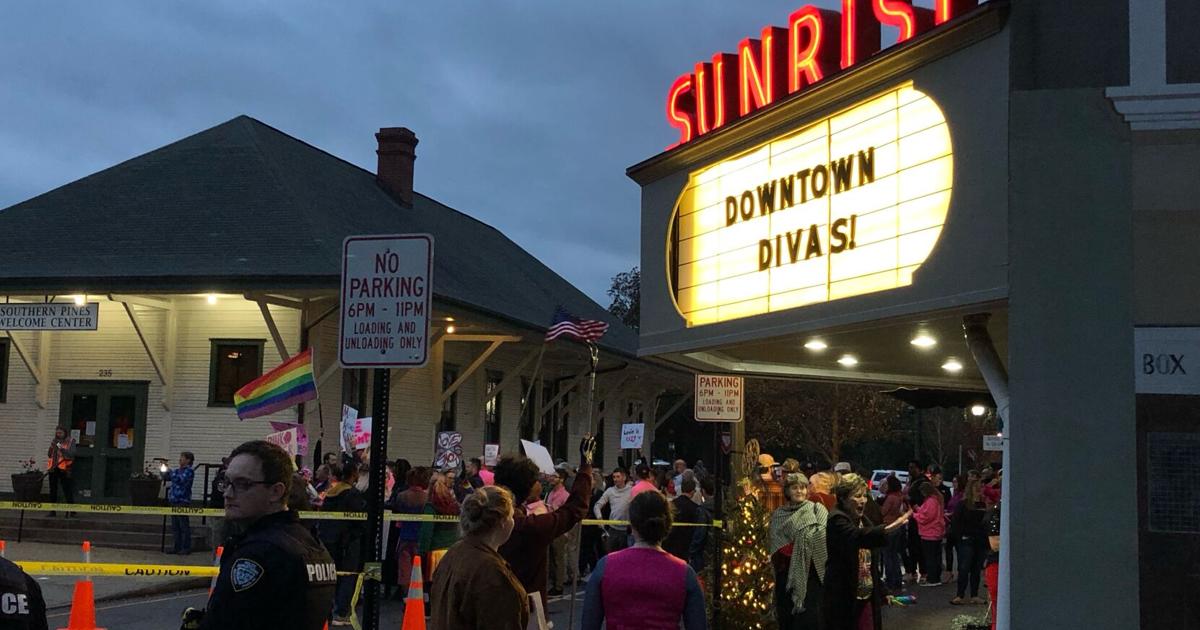 ---
I haven't found many specific details about the attacks other than the fact they involved firearms and that two separate substations were hit. It's unclear to me whether these two objectives were hit simultaneously or sequentially, but a simo hit would have much more serious implications for obvious reasons. Also, whoever carried out these attacks either did a good job of reducing their signature(s), or authorities are doing a good job of keeping details from leaking (or both).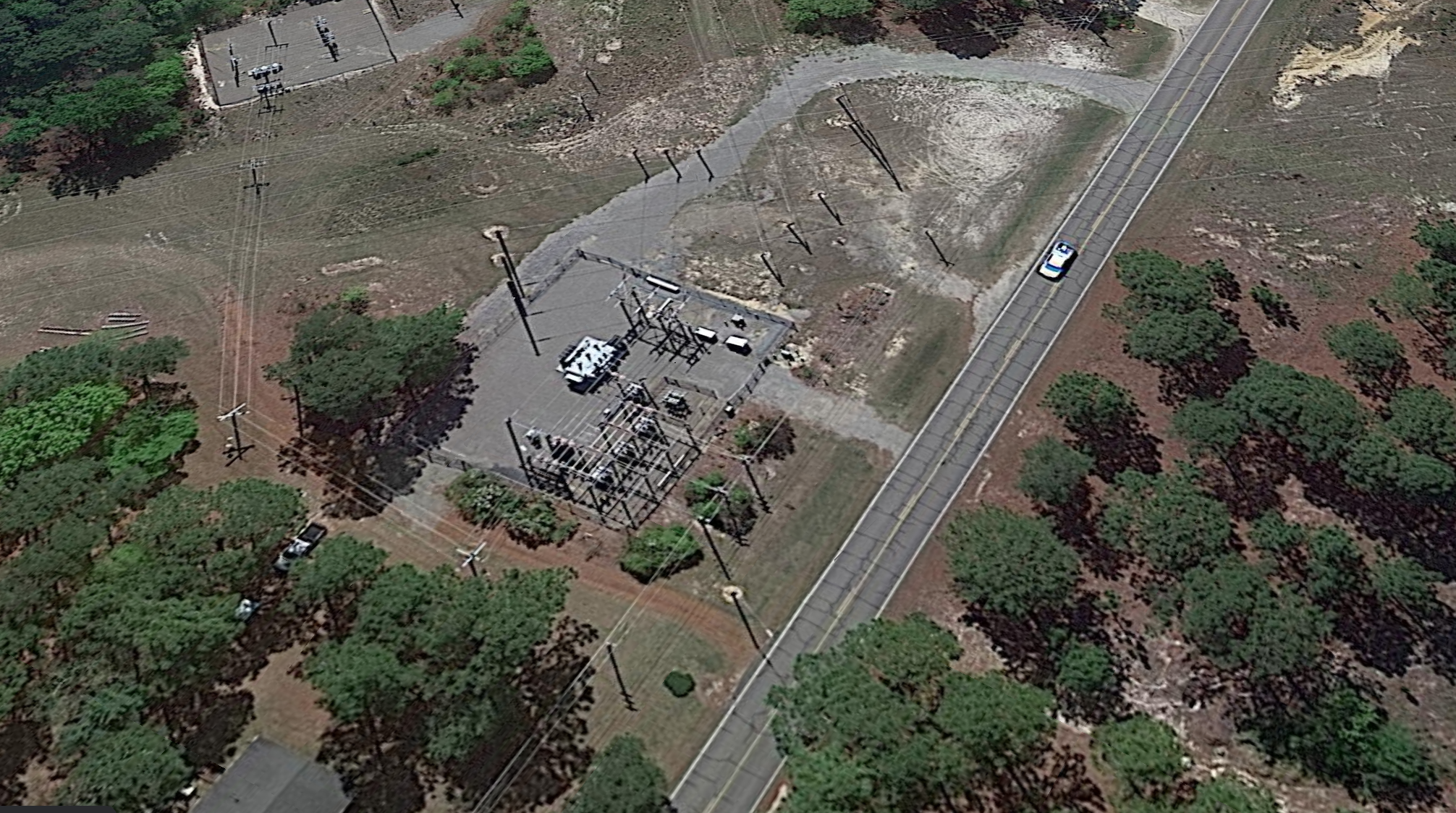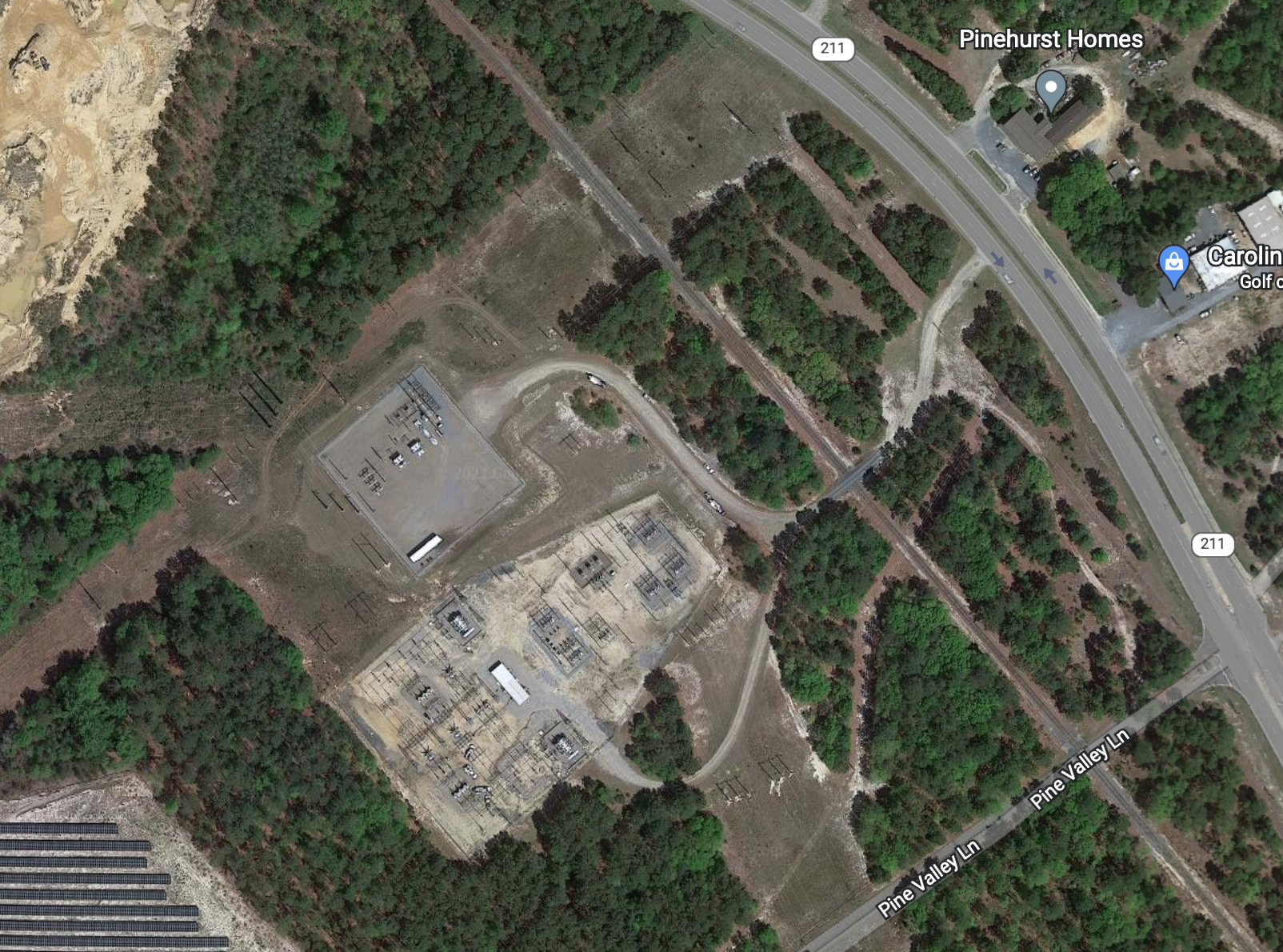 From what I gather, the affected substations were the Carthage substation at 731 Vass-Carthage Rd, Carthage, NC 28327, and the West End substation at 6910 NC-211, West End, NC 27376. Before the feds raid me, this information was gleaned from photos in the local newspaper The Pilot and map reconnaissance on Google.
The two attack sites are about 35-40 minutes away from the Sunrise Theater. As of this writing, power is restored, local and federal law enforcement have applied for search warrants, but they won't say for what, and local LE also reports they have identified no suspects. You can read more here: https://www.newsobserver.com/news/local/article269763522.html
The nature of these attacks and the possibility that they're in response to a pride event will, I'm sure, garner a full and persistent FBI response. We'll see what shakes out.
Gaming this out
It's entirely possible these substations were attacked by drunk teenagers who thought it would be a funny prank. It's also possible (but less likely IMO) these attacks were carried out by left-wing activists as a type of false flag operation. But in this case, there is a very distinct third possibility. What I am about to outline is based on pure speculation, and I have no information to suggest that any of it is true, so understand that this is purely a "what if?" exercise.
The area where these attacks occurred is along the eastern edge of a 15-county territory referred to as "The People's Republic of Pineland," or just Pineland, by the US Army's Special Forces community.
Pineland is a fictional country that is used in the final phase of Special Forces Qualification training called Robin Sage.
...students make an airborne infiltration into the fictitious country of "Pineland". They contact guerrilla forces to initiate Robin Sage. Students accomplish their task of training, advising, and assisting the guerrillas. The training educates the guerrillas in various specialties, including weapons, communications, medical, and demolitions. The training is designed to enable the guerrillas to begin liberating their country from oppression. It is the last portion of the Special Forces Qualification Course before they receive their "Green Berets".
In the area near these attacks, there is a cadre of special forces instructors, local civilian participants and contractors, and a community of former military and special forces veterans.
In short, this proposed all-ages drag show took place in the heart of a rural territory where American special forces conduct year-round unconventional warfare training, with a focus on subverting a national government using popular support of locals, guerrilla strategy and tactics, and clandestine demolitions operations.
As you can see from the photos, both of these attack sites are easy targets. They are both adjacent to high-speed avenues of approach, they both offer plenty of cover and concealment, they're both in fairly rural settings, and the sites themselves have no meaningful on-site security.
Let's imagine for just a moment that you are – hypothetically – a guerrilla fighter who is looking to carry out a hit-and-run attack. You want a target that's reasonably simple to destroy, that would send a clear political message, and would have an outsized impact on the regional population. It would also be good if the response to your attack occupied the full efforts of local law enforcement and utility resources. It would be even better if the attack fostered tension between the community and political leadership.
Well, one would be hard-pressed to find a better (and by 'better,' I mean 'worse' – violence is bad, and I don't condone sabotage or political terrorism!) target than a power substation. But don't take my word for it – ask Che Guevara:
At any rate, well-managed sabotage is always a very effective arm, though it should not be employed to put means of production out of action, leaving a sector of the population paralyzed (and thus without work) unless this paralysis affects the normal life of the society. It is ridiculous to carry out sabotage against a soft-drink factory, but it is absolutely correct and advisable to carry out sabotage against a power plant. In the first case, a certain number of workers are put out of a job but nothing is done to modify the rhythm of industrial life; in the second case, there will again be displaced workers, but this is entirely justified by the paralysis of the life of the region.
 
3. Guerilla Tactics, Guerilla Warfare -- Ernesto Che Guevara
Again – this is all speculation. I'm just putting the scenario into context here. It's entirely possible this was some random chud with access to a Hi-Point carbine and a pickup truck. It doesn't take a genius to disable a power substation. But with that said, the Special Forces community is not traditionally in favor of all-ages drag shows. If there's a demographic I wouldn't force the issue against, it's the guys behind the tall fences on Fort Bragg.
Regardless of who the culprit(s) ends up being, someone was able to paralyze a midsized American city, send a national political message, rack up millions of dollars of damage (by expending probably $30 worth of rifle ammo), and vanish into the night leaving local authorities clueless.
I'm sure it's purely a coincidence that it happened where Green Berets are made.
---
Guns
New 4473
The ATF is making some major changes to its Form 4473 (the form you fill out at a gun store when you buy a firearm) in wake of the Bipartisan Safer Communities Act, the NICS Denial Notification Act, and 2021R-05F.
The TLDR; is this:
The new 4473 gives dealers a way to denote privately made firearms
The new 4473 requires the buyer to affirm they aren't buying a firearm for someone who can't and aren't buying a firearm to use in a felony, for terrorism, or for drug trafficking.
The new 4473 adds a bit of bureaucracy for the dealer in terms of how they record the background check information, but this shouldn't really affect customers unless they're under 21
If you want to read the full ATF release, they sent the following email:
Notice Regarding Recent Changes to the ATF Form 4473
 
Due to new statutory requirements set forth in both the NICS Denial Notification Act and the Bipartisan Safer Community Act (BSCA), and to reflect the implementation of ATF Final Rule 2021R-05F, ATF Form 4473 has been revised. Because the new statutory requirements are designed to enhance public safety, and to ensure compliance with these provisions and Final Rule 2021R-05F, the Office of Management and Budget has provided emergency authorization to ATF to immediately use the revised Form 4473. ATF will be publishing the Revised Form for Notice and Comment Review in the coming months.
 
ATF encourages all federal firearms licensees (FFLs) to begin using the Revised Form immediately. The Revised Form is available on ATF's website, and can be downloaded and printed for immediate use. Please note that the entire Form, including instructions, must be printed, and stored together. Hard copies of the Revised Form will be available through the ATF Distribution Center beginning February 1, 2023. The ATF eForm 4473 application is also being revised and notification will be sent when it is ready for use.
 
Significant changes in the Revised Form are as follows:
 
Any firearm, received by a FFL, that was privately made (not manufactured by another licensee) must now be recorded on the ATF Form 4473. "Privately Made Firearm (PMF)" has been added to item 1, Section A. It now reads: "Manufacturer and Importer, if any or Privately made firearm (PMF) (If the manufacturer and importer are both different, include both)".
 
Question 10 is revised: The transferee/buyer is now asked to answer whether they "Reside in City Limits?" regarding their residence address. For example, if a transferee lists their residence city/state as Phoenix, Arizona but they actually reside outside of the city, they will answer "no" to this item.
 
The following two prohibiting questions have been added to Section B:
 
21b: "Do you intend to purchase or acquire any firearm listed on this form and any continuation sheet(s) or ammunition, for sale of other disposition to any person described in questions 21(c)-(m) or to a person described in question 21.n.1 who does not fall within a nonimmigrant exception?"
 
c.: "Do you intend to sell or otherwise dispose of any firearm listed on this form and any continuation sheet(s) or ammunition in furtherance of any felony or other offense punishable by imprisonment for a term of more than one year, a federal crime of terrorism, or a drug trafficking offense?"
 
 
To comply with the BSCA 10-day waiting period on certain transfers involving transferees under the age of 21, Section C of the Form has been revised as follows:
 
Prior to the NICS/POC information, an instructional header has been added stating: "Notice: If transferee/buyer is under 21, a waiting period of up to 10 days may apply where notification from NICS is received within 3 business days to further investigate a possible disqualifying juvenile record. A NICS check is only valid for 30 calendar days from the date recorded in question 27a."
 
Item 27.c. was amended to show the date an FFL may transfer a firearm should NICS or the State agency (conducting the background check) not reply stating more time is needed for the check. It now reads next to the delayed check box: "The firearm(s) may be transferred on ____ if time period is not extended by NICS or the appropriate State agency, and State law allows (optional)."
 
A box has been added to 27.d. should NICS or the appropriate State agency delay the check as more time is needed to conduct it on a transferee under 21 years of age. It now reads: "Notice of additional delay of transferee under 21 years of age received on _______ (date), and may be transferred on _________ (date)."
 
Also added to 27.d. is a box for FFLs to check should no response be received from NICS or the appropriate State agency (for transferees under 21 years of age) within 10 business days after the initial delay was given. It now reads: "No response was provided within 10 business days after initial delay for transferee/buyer under 21."
 
A detailed list of all changes can be found at ATF - Revised 4473. The revised form will become mandatory for use on April 1, 2023. Please contact your local ATF Industry Operations office should you have any questions regarding the changes to the form.
I've highlighted in red the parts of the form that are new and different in the images below.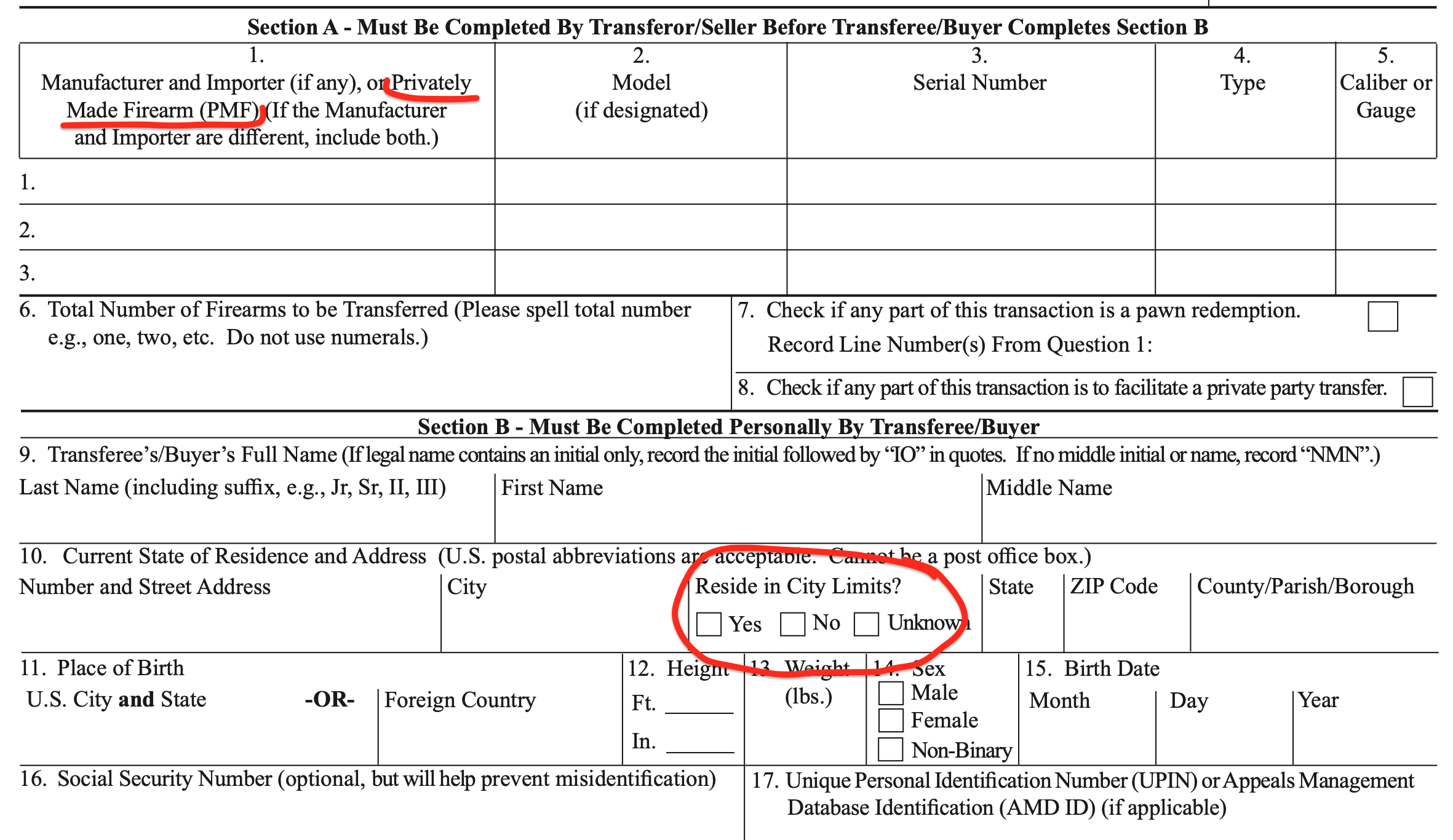 Read More:
You can find the new form here: https://www.atf.gov/firearms/docs/4473-part-1-firearms-transaction-record-over-counter-atf-form-53009/download
It goes into mandatory effect on April 1st, 2023, but dealers are encouraged to start using it ASAP.
Pistol Brace Updates
The rumor mill is speculating that we'll see an update on pistol braces next week. I'm not going to speculate on it right now, but be on the lookout as early as Monday for a change or proposed change.
EDC Is Doing Great
According to The Guardian, six million Americans every day carried handguns in 2019, which doubles the 2015 figure.
Between civil unrest, COVID, and a number of court rulings favorable to carry rights, this makes sense. Also, a higher percentage of people now say they own firearms for self-defense (rather than for hunting or sporting purposes).
Per the article, the majority of gun owners who carry a handgun in public are men living in the American south.
Read More: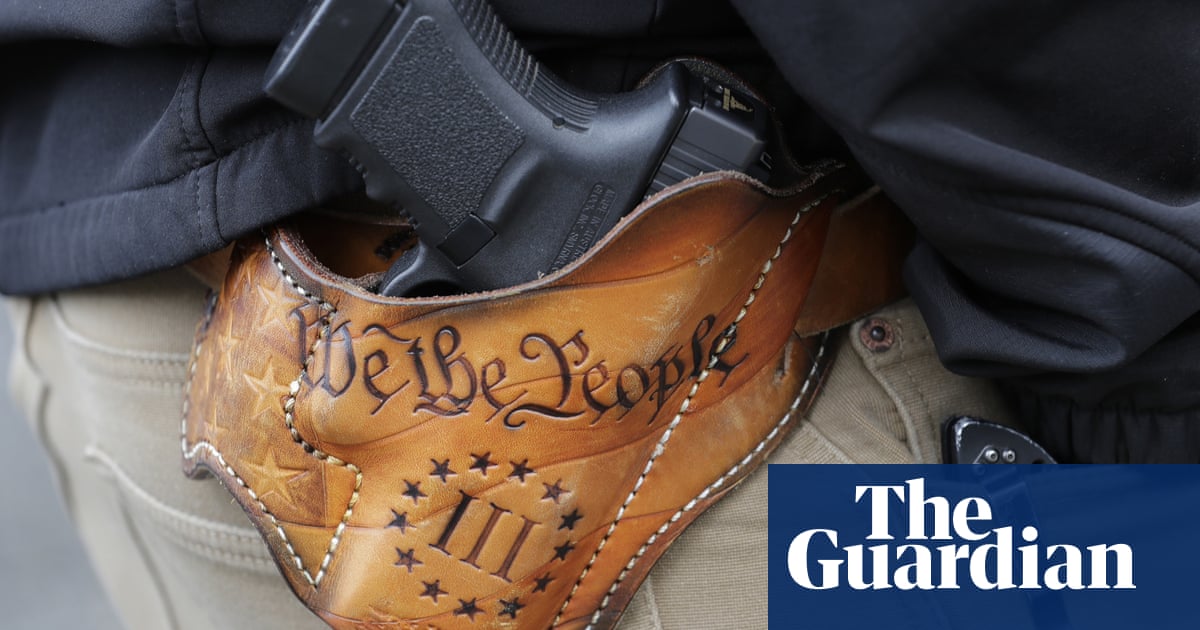 ---
Politics
The Twitter Files
In case you haven't gone through and read the Twitter files, you should. So far, there has been a trio of threads; two by Matt Taibbi and one by Bari Weiss. You can find the links below.
Thread 1 – Matt Taibbi on how and why Twitter blocked the Hunter Biden laptop story
Thread 2 – Bari Weiss on Twitter's secret blacklists
Thread 3 – Matt Taibbi on the removal of Trump
There's a lot to say about this.
On one hand, it's basically everything you'd expect from this era of American politics. Full corruption, absolute abuses of power, and bad faith actors all around. As many have pointed out, Twitter was basically being controlled by the "Trust and Safety Team," which is arguably just a euphemism for the White House staff and DOJ.
The White House was able to send individual tweets over to Twitter for deletion, and Twitter was eagerly suppressing right-wing commentary at the behest of the FBI, the Biden administration, and at the personal bias of Yoel Roth, head of Trust and Safety, and his team. Elon Musk himself confirmed that Twitter was shadowbanning political candidates during elections.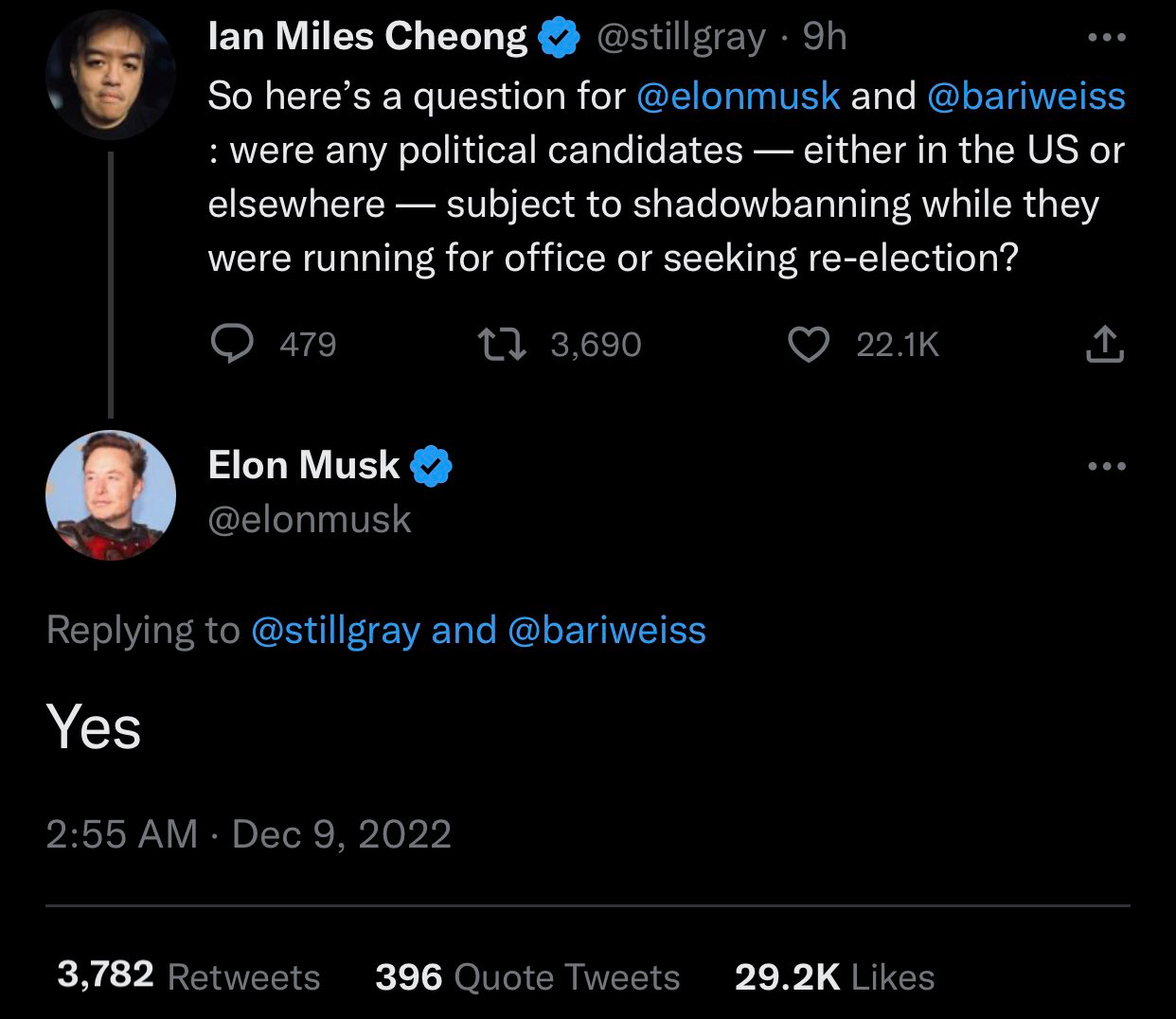 This evolves the situation from one where everyone kind of suspects that Twitter is involved in left-wing activism to one where not only is it confirmed, but it also involves the highest levels of government and the intelligence community.
I've seen a lot of progressives take the "so what?" posture, but I think this has the potential to be a big deal. Public sentiment towards the media has greatly fallen in recent years, and this will continue to (correctly) erode the credibility of large corporations and social media platforms. The involvement of the FBI and DNI will fuel a more broad understanding that the deep state is real and that it works behind the scenes to prevent the public from having ready access to authentic sentiment and properly contextualized information.
It's popular and easy to say, "nothing will change," but I would caution against taking the blackpill here. Everything you suspected is not only true; it's worse than previously suspected. But at least now it's verified, and the receipts are in the public domain.
Me? I think the Twitter files situation might usher in a renaissance in FOSS and Web 1.0-style communication. People post about a "national divorce," but I think the better option is a digital divorce. I'll expand on this separately later, but it seems to me the conditions are primed for this.
FCC and Xi
Biden continues playing hardball against the CCP in the tech hardware arena, as the FCC bans imports of Chinese products from several major telecom manufacturers.
The United States' Federal Communications Commission (FCC) has barred itself from authorizing the import or sale of Chinese telecoms and video surveillance products from Huawei, ZTE, Hytera Communications, Hikvision, and Dahua, on national security grounds.
This escalation is part of the administration's Secure Equipment Act. The new rules will impact a wide variety of devices, from mobile phones to surveillance equipment to wifi routers.
The change even goes so far as to require that companies seeking FCC approval to sell their devices in the US must also have a US-based agent, ostensibly so that US authorities can take law enforcement action against bad actors.
"No more. If you want to be authorized to sell your equipment in the United States, we must be able to enforce our rules against you if you violate them. Full stop."
This round of import restrictions follows export restrictions imposed by the US Department of Commerce against China in July of this year.
The US Department of Commerce released new rules on 7 October 2022 prohibiting US companies from exporting to China the technology, software, and equipment used in producing advanced computing chips and supercomputers. The new measures also bar US persons from supporting certain China-based chip companies without a licence from the US government.
 
Fitch: New US Export Controls to Challenge Semiconductor Companies
That's right – American workers in China risk losing their US citizenship for helping Chinese tech companies without USG authorization.
Taken in context with the passage of the 2022 CHIPS and Science Act, it seems that Biden is actually doing right by American manufacturing and American interests in this case.
Read More: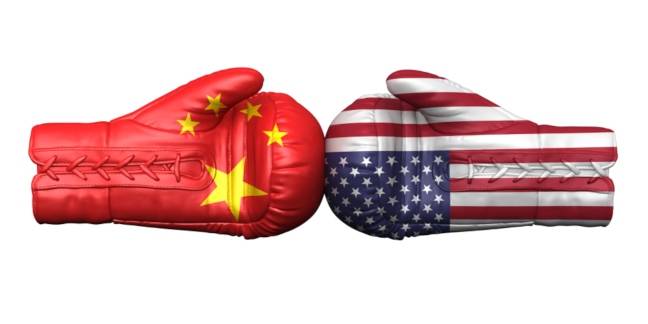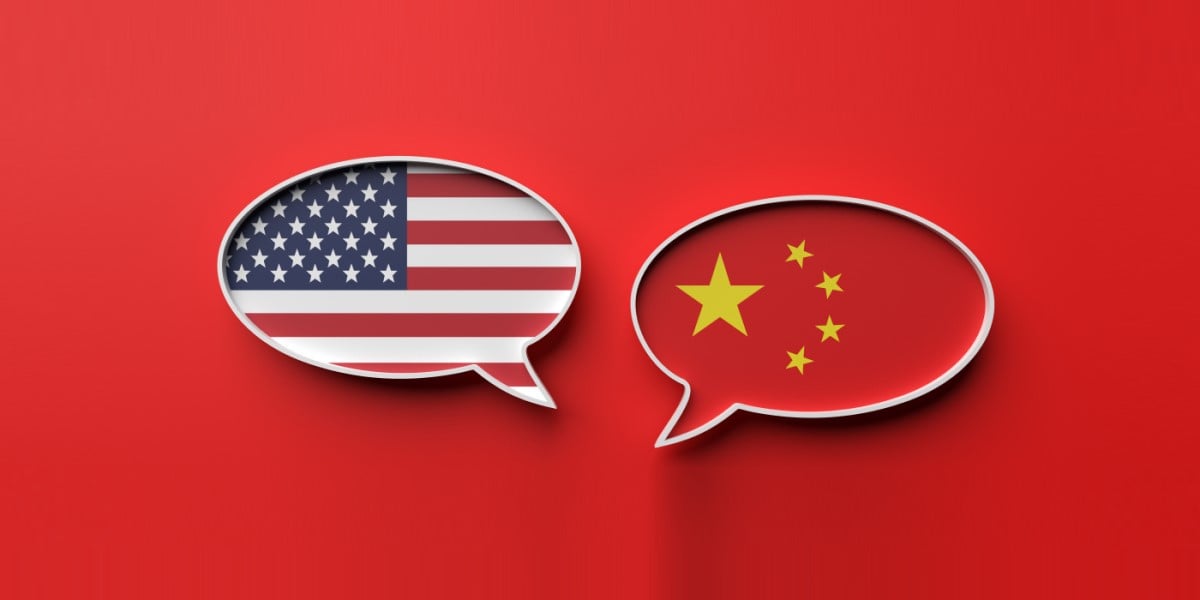 ---
Tweet of the Week
Nick Land had a very effective one-line takedown of Jordan Peterson's recent descent into madness.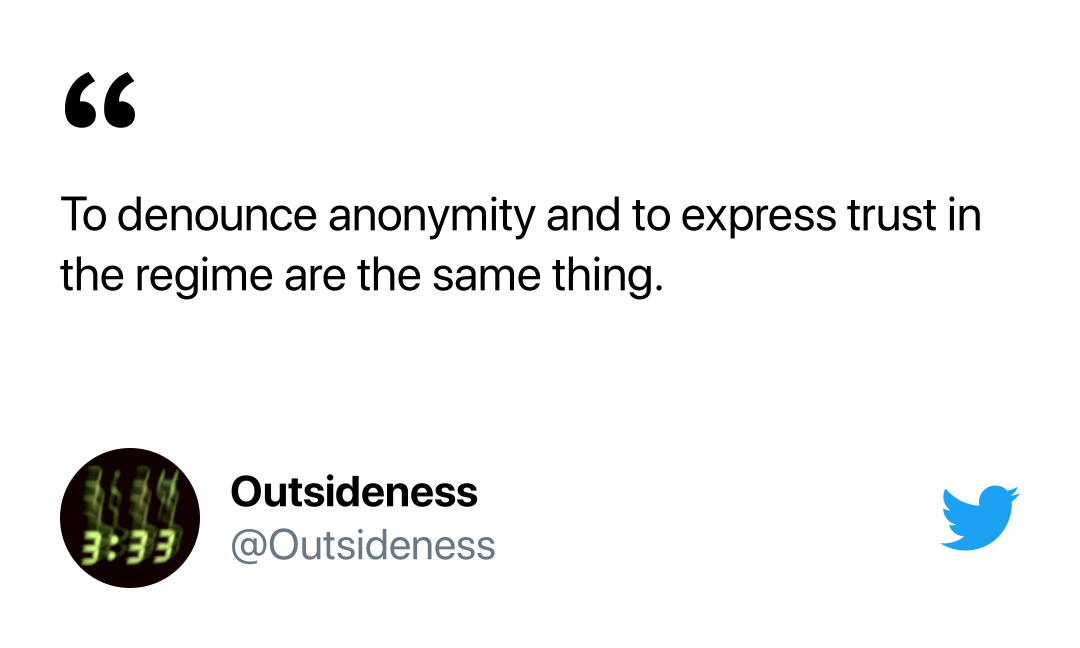 ---
💡
That's everything for this week. I hope you are all done with your Christmas shopping! I'll see everyone next time

-Lee
---