Newsletter
Real Talk on Ammo - Issue #41 of 2023
The Newsletter for October 19th, 2023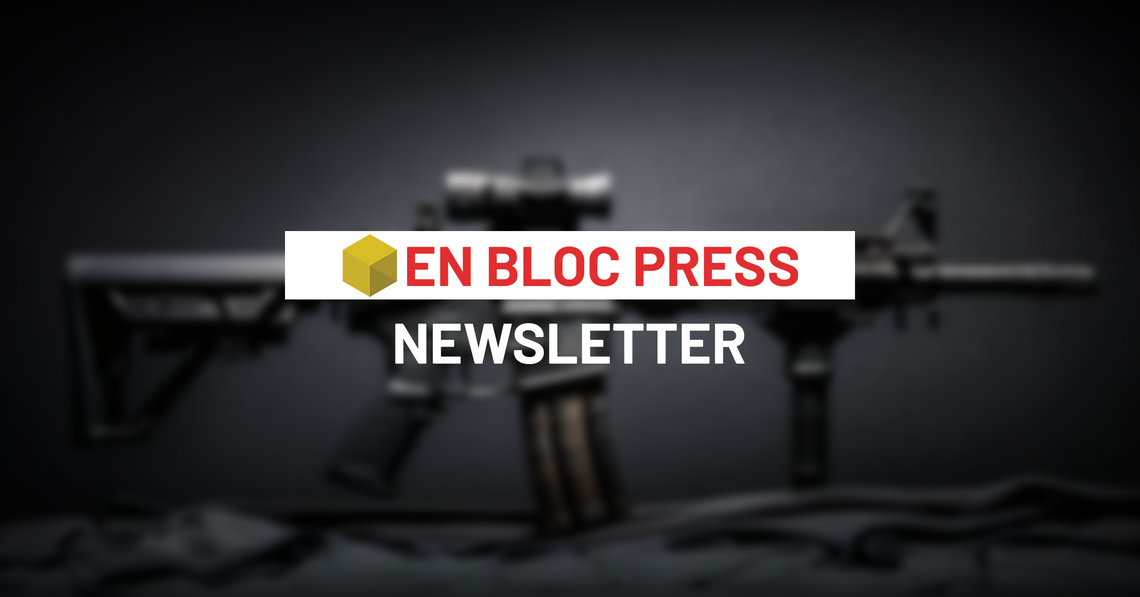 ⏩
The Newsletter is a little early this week because I wanted to focus on the current situation with ammo and get the information to you while it's still useful.
Anxieties over the Middle East and uncertainty among civilian consumers and gun stores about the continued availability of 5.56mm ammo drove increases in both the demand and retail price of rifle ammo this week.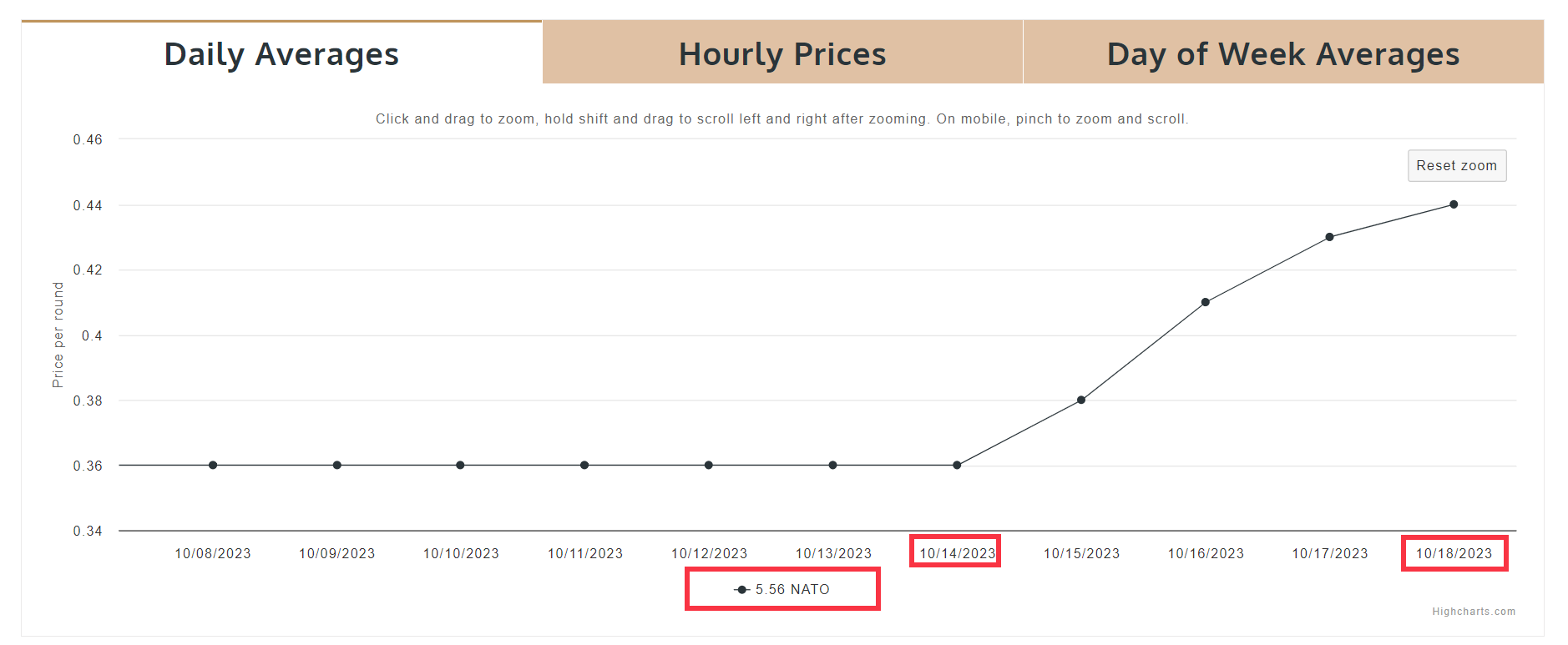 Some of this concern is unfounded, and some of it is likely to end up being justified.
Here's why people are anxious:
A fatal industrial accident at Hornady's ammunition facility
Vista Outdoors announcing the sell-off of a number of prominent ammunition companies like Federal, CCI, and Speer
The risk of a regional or global conflict stemming from the Israel-Palestine situation
Rumors about Lake City's cancelation of civilian ammo orders on 5.56mm NATO cartridges
---
Bottom Line Up Front
Hornady's production was not disrupted, but one worker was killed and two were injured by a Friday explosion at their facility in Grand Island, Nebraska. The incident did not occur in the manufacturing portion of the plant; while this is a tragic scenario, ammo production is not affected.
Vista Outdoor's Sporting Products business holds seven ammunition and component companies. These are being sold to the Czechoslav Group. The deal is not slated to disrupt production; the Sporting Products CEO will keep his job and the company's American HQ will not change.
The rumors about Lake City abruptly pausing sales to commercial clients are likely true, and may or may not be a long-term thing. Lake City Army Ammunition Plant (LCAAP) is a major producer of 5.56mm ammo for the military, and its commercial sales are usually comprised of excess production the military doesn't need. If the military says "We need more ammo," then the result will be less surplus ammo for the civilian market.
The US military's dwindling munitions supply represents a problem as the risk of regional conflict in the Middle East seems to increase. My guess? The military put in some emergency orders for 5.56mm ammo from Lake City and now the civilian market is left out in the cold.
What does all this mean for you, shooter? Lake City is not the only civilian supplier of 5.56mm ammo, but they do account for around 30% of the market. A sudden void means an increase in retail prices and temporary frustrations finding in-stock ammo while the industry corrects for this new wrinkle.
Look to CBC Group companies like Magtech, Sellier & Bellot, and CBC (proper) for an alternative to Winchester or Federal. Also, don't sleep on Prvi Partizan (PPU) or PMC. My point is that there will continue to be a supply of .223/5.56 ammo even as Lake City drops from the sales mix. But don't be surprised if panic buying affects price and availability at your local gun store for a bit.
Also: keep in mind that Lake City doesn't only sell complete cartridges. Lake City also sells components like primers and brass to other manufacturers; a LCAAP shortfall might cause the output of certain other product lines to limp for a while.
As with all disruptions to the ammo market, the best solution is to already have a bunch of ammo on hand. If you don't already have a decent stock of ammo and spare magazines, I would suggest that you grab these things if you can (but to be clear, I don't think this is a severe enough situation to warrant overspending).
---
Closer Looks
Hornady Ammo Plant Fatal Explosion
Status: Confirmed
Sources: Public and internal sources
Projection: No change in production
Story: One employee was killed and two more were injured by an accidental explosion at Hornady's facility in Grand Island, Nebraska. The loss of life is tragic, but this incident did not occur in the manufacturing part of the facility and there has not been a stop in Hornady's output.
As you read this article, you might notice that most of these ammo companies are owned by international conglomerates in holding companies. Hornady is owned by the Hornady family in Nebraska. I would encourage you to support Hornady where you can.
There are better companies for cheap range ammo, but for hunting and home protection I would recommend them. I don't get paid to say this. But if you care about an American company being competitive against global finance, maybe keep them in mind.
Read More:
---
Vista Outdoors Sells Off Ammo Brands Federal, Remington, Speer, CCI, Estate Cartridge, Alliant Powder, and Hevi-Shot to Czech Holding Corp
Status: Confirmed
Sources: Corporate press releases, Public data
Projection: No announced changes in production
Story: Vista Outdoor Inc ($VSTO) owns 41 well-known outdoor and ammunition brands. The company is structured into two main businesses: the Sporting Products business and Outdoor Products business. The Sporting Products business owns Alliant Powder, CCI, Estate Cartridge, Federal Ammunition, Remington, Speer, and Hevi-Shot. The Outdoor Products business mainly consists of companies that sell optics, accessories, camping supplies, and related products.
Outdoor Products is being rebranded and spun into a new business called Revelyst. Sporting Products (the ammo companies) is being sold off.
Vista's ammo companies are being sold to Czechoslovak Group (CSG), a Czech industrial technology holding company based in Prague, in a $1.9B deal scheduled to close in the 2024 calendar year.
CSG is privately owned by Michal Strnad, the son of the company's founder. CSG formally operated under the name "Excalibur Group."
Assuming the deal clears regulators and other red tape, Sporting Products will become a wholly-owned subsidiary of CSG. Jason Vanderbrink will keep his job as the CEO of Sporting Products, and the American headquarters will stay in Minnesota.
To me, this deal looks like a simple change in ownership.
Note: CSG also acquired a majority ownership of Fiocchi ammo in a deal last year.
Read More:
---
Lake City Army Ammunition Plant to Suspend Commercial Sales of 5.56mm Ammo
Status: Tight-lipped; appears to be true for now
Sources: RUMINT + I'll never tell ;)
Projection: A ~30% reduction, which may or may not be short term, in the supply of Winchester 5.56mm cartridges and Lake City components like brass and primers; increases in retail price on 5.56mm ammo
Story: The Lake City Army Ammunition Plant (LCAAP) is a government-owned ammunition production facility in Independence, Missouri. As of 2020, Winchester privately operates it under a government contract. There are rumors circulating that commercial sales of 5.56mm ammo are being suspended. The LCAAP is said to produce about 30% of the 5.56mm ammo for the civilian market.

There are layers to this:
LCAAP sells to civilian distributors the ammo that the government doesn't need. If there is no more surplus ammo available, then obviously it suggests an uptick in Government demand for 5.56mm ammo. It's not unlikely this is related to the situation in the Middle East.
It's also possible this is a political move. You may remember that in June of 2022, there was a controversy surrounding the Biden administration's plans to stop selling the surplus Lake City 5.56mm ammo to the civilian market in a back-channel attempt at gun control. There was heavy blowback at the time and the plan was shelved.
It's possible this is a two-fer for the Biden admin. They can re-up the military's ammo supply in light of the escalating situation in the Middle East while simultaneously hurting the wallets of the AR-15-owning public.
I will not be offering an explanation but I will tell you this: it's true that certain large commercial accounts have not seen their expected shipments from Lake City at this time. This could change at any moment, but as I type this…it's looking like the rumors that commercial sales are suspended are true.
Read More:
---
Summing Up
And so there you have it – it's a mixed bag. Things look fine for Hornady, CBC Group brands, and CSG/Sporting Products brands, but the happenings at Lake City will perpetuate some panic buying and inflate prices at retail.

Also, remember that gun stores are coming off a slow summer. Expect them to use this as an opportunity to squeeze a few extra bucks out of 5.56 ammo.
📬
This time next month, we could be dealing with WWIII. Or, Lake City could have resumed shipping ammo to commercial markets like normal. Either way, there are still plenty of other rifle ammo sources at the moment.

I'll leave you to decide whether you should splurge and top off your ammo cache, but I do hope this helps inform your thinking.

-Lee
---